We've all been there, frustrated that our cool new design isn't sticking to the bed properly and the peeling up corners are ruining the print. Before hunting for a dedicated 3D printing adhesion spray online or resorting to rubbing an elementary school glue stick across your 3D printer, hairspray is a convenient solution to turn to with little downside. But if you don't have a bottle of hairspray already on hand, how do you know which one to use?
When it comes to choosing a hairspray for your 3D printer, there are several criteria to consider. Do you want the cheapest that can make do or the best quality for the price? What kind of smell do you want to be spraying in your workspace? Do you want a product from brands you've seen in drugstores your entire life or one that's more popular with other makers and online communities?
How often do you plan on spraying the hairspray—and more importantly, how often will you have the patience to clean a nozzle if it's getting clogged and spraying unevenly? Even worse, do you want to cheap out and be stuck with a nozzle that breaks after five sprays? These aren't the brass nozzles your printer came with; they're even less reliable and harder to replace.
And of course, last but not least, how sticky do you want the hairspray to be? Obviously, it needs to do its one job and help your prints adhere to the print bed, but super strong hairsprays come with the potential for sticky residue that can be difficult to remove from the print bed.
Once you're positive your print bed is level and you've done everything else right, check out our list below for the best hairspray options with 3D printing.
HAIRSPRAY FOR 3D PRINTING: BEST OPTIONS
Aqua Net Extra Super Hold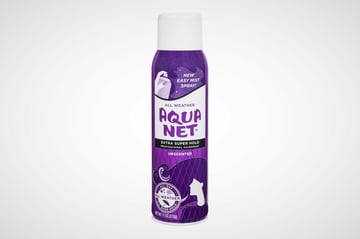 No list of recommendations would be complete without the product that's practically become synonymous with hairspray in the 3D printing community.
The Aqua Net brand is well known for withstanding high temperatures, making it a perfect fit for printing with certain filaments. And as an added bonus, this hairspray doesn't come with any added fruity scents to stink up your makerspace.
It's not the cheapest hairspray on the market (or on this list) but its popularity, wealth of recommendations, and quality make it well worth the immodest price.
Brand: Aqua Net
Scent: Unscented
Price: ~$13
L'Oreal Paris is a well-known brand that should be easy to find on short notice for a reasonable price when the need arises with your 3D printer. The Lock It hairspray is specifically made water-free to eliminate any concerns of humidity reducing its effectiveness.
The drawback to this humidity-resistant option is that it comes with a strong scent. Some customers also mention the nozzle begins to spray unevenly after several uses, likely because of minor clogging. Still, if humidity is a concern in your makerspace or with the chosen filament, it's hard to beat L'Oreal's combination of quality and value.
Brand: L'Oreal Paris
Scent: Strong chemical smell
Price: ~$6
Paul Mitchell Finishing Spray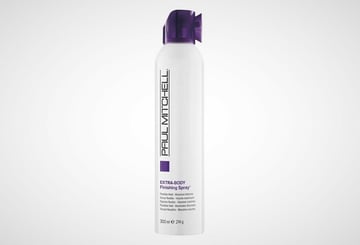 Another common brand that's easy to find is Paul Mitchell. Their Finishing Spray is specifically recommended for 3D printing as it performs consistently across a wide variety of materials, making it perfect for 3D printing enthusiasts who experiment with different filaments.
This hairspray's residue is also remarkably easy to wipe off in comparison with other options. However, the bottle itself is fussier about cleaning than other mid-range hairsprays – the nozzle consistently gets blocked over time and sprays unevenly. If you don't mind cleaning the nozzle and can withstand the strong artificial apple smell, the Paul Mitchell Finishing Spray is a strong option for hobbyists.
Brand: Paul Mitchell
Scent: Apple scented
Price: ~$16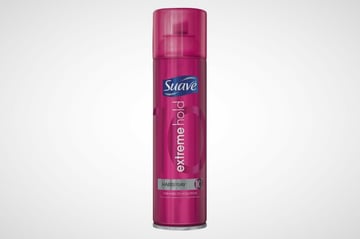 Suave makes sticky hairsprays, and it's easy to see why they're popular within the 3D printing community. A much cheaper option than the Aqua Net Extra Super Hold, the Suave Extreme Hold packs a sticky punch. So sticky, in fact, that it can be difficult to separate prints from the bed once they're completed. Once you do manage to free your print, the residue left behind by this hairspray is difficult to clean off.
While it's super sticky and also smell-free, a big difference in quality between products is the bottle carrying the hairspray. Specifically, this nozzle clogs easily and needs consistent disassembly for cleaning to continue spraying.
If you don't mind the extra effort, this hairspray is as strong a hold as you'll find for its price point.
Brand: Suave
Scent: Unscented
Price: ~$3
Garnier Fructis Style Extreme Control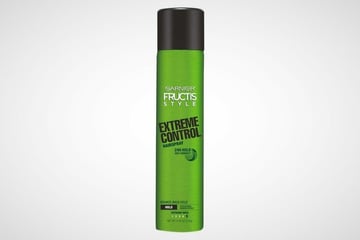 Another well-known brand that'll be easy to find is the Garnier Fructis Style Extreme Control hairspray. This product boasts the same anti-humidity features as the L'Oreal Advanced Lock It for a fraction of the price. Unfortunately, it also comes with a strong scent, with Garnier adding a fruity fragrance that will remind you of middle school hallways.
The nozzle also brings its own concerns, with reports of it breaking from normal pressure when spraying and clogging more than most hairsprays in this price range. Still, this hairspray offers great value for the cost.
Brand: Garnier Fructis
Scent: Fruity fragrance
Price:

~$3